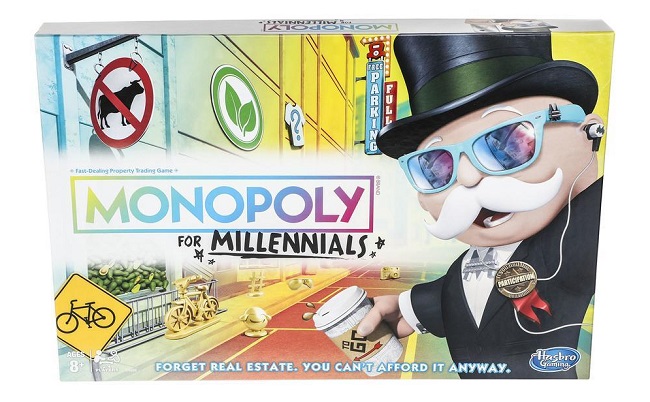 Millennials are the new grown kids on the block these days, and Hasbro, the company behind the classic Monopoly game launched a new version of this popular board game that speaks directly to the Millennial market, featuring special characteristics to differentiate it from its origins.
Monopoly for Millennials has been designed specifically for those born between 1981 and 2000, with slightly revised rules, a new cover, and plenty of the stereotypes that the generational group is known for.
The re-imagined box includes Mr. Monopoly himself posing for a selfie, complete with headphones over his head, a cup of coffee in his hand, and a participation medal in the other, with the tagline: 'forget real estate, you can't afford it anyway'. Instead of the traditional method of bankrupting your foes, this version asks that players collect experiences in lieu o property. Examples include visiting a friend and having a conversation on their couch, meeting for vegan bistro, or even a meditation sanctuary retreat. Experiences to be had by players of this version include spending time in the parent's basement, bargain thrift shopping, and organic living at the farmers' market. Other notable new entries include hashtags and crying emojis as the game pieces.
This is a very different version than GenX and Baby Boomer's editions, which were all about the accumulation of wealth and real estate. Players are also nudged into finding the next best place for foodies to indulge in the latest entrees, shopping at exclusive locales, and community involvement.
The sticker price for this new revamped experience goes for just under $20, the perfect price point for Millennials to indulge in a game that has managed to survive across several generations with no signs of slowing down. And for traditionalists, the game still includes the classic 'go to jail' space for old time's sake.